SoundStorm: Sound For The New Millenium
from "Film and Video" February 1999
SoundStorm, the Burbank-based post-production sound facility that has already attained many years of success, is now charting a new course. Six individuals - John Leveque, Bruce Stambler, Becky Sullivan, Richard Yawn, John Fanaris and Gary Blufer - who together represent more than 80 years with SoundStorm have taken over the company. Widely becoming known in the industry as "The SoundStorm Six", they have captured the coveted Academy Award five times in a row, been nominated for an Academy Award five times in a row and won two B.A.F.T.A.s in just the last seven years.
The successful New York post of Joel Schumacher's 8mm solidified an East Coast presence for the new SoundStorm. Having achieved expansion that includes New York and Hawaii, there now exists the flexibility to create a sound package for any show's need.
Long recognized as the premier facility for superior quality and all-encompassing sound FX design, SoundStorm has contributed to the success of such films as Under Siege, The Fugitive, Clear and Present Danger, Batman Forever, The Ghost and the Darkness and LA Confidential.
The technological focus of the new owners includes investing in state-of-the-art sound design equipment and neural networked digital workstations for cutting edge editorial. The facility produces exceptional duality with streamlined efficiency to generate client savings. The recent purchase of a facility across from their complex provides room for additional editorial suites, ADR and Foley stages, the television division and offices for global business administration. Advancements such as these have enhanced the company's proven abilities that directors, producers and picture editors rely on.
SoundStorm has re-dedicated itself to unmatched client service with the arrival of I5-year entertainment industry executive Daniel R. Chavez. Appointed vice president of client service and sales, he has raised the bar in providing comprehensive communication and service to SoundStorm clients.
"Guaranteeing the highest duality soundtrack is easy given our talented individuals," Chavez says. "The difference is our ability to accomplish this goal within any given budget, from studio to independent. We know that between the collaborative process, our professionalism and the superior results, an enduring partnership is created." lt is obvious the "The SoundStorm Six" have the new millennium wired for sound!
The successful New York post of Joel Schumacher's 8mm solidified an East Coast presence for the new SoundStorm. Right, "The SoundStorm Six".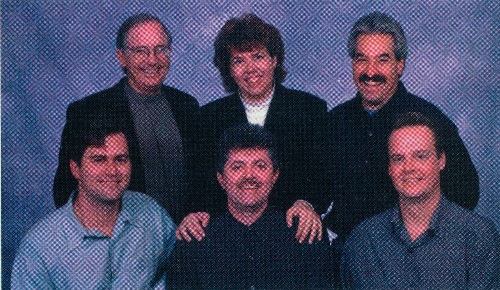 Top row: John Leveque, Becky Sullivan and Bruce Stambler.
Bottom row: John Francis, Gary Blufer and Richard Yawn.